!..07/19/01 mgm..>
In Loving Memory of Mitakola Shaw, Airedale Terrorist
March 25th, 1990 -- October 5th, 2000.
---
Ten and a half year old Mitakola held on bravely for nine weeks since being diagnosed with hemangiosarcoma. She got the opportunity to get blessed on St. Francis' Feastday October 4th, 2000, but time came to do what was best for the patient.
I made the decision to set Mitakola's spirit free so at 15:28PST, my brother and I held her gently and said a few prayers as she took her last breaths in the physical dimension.
-- Marty
---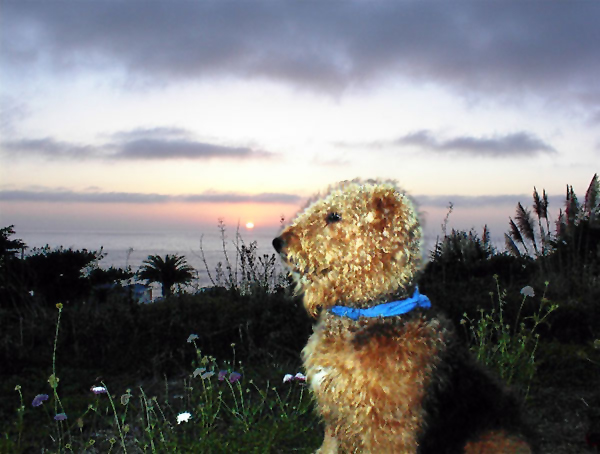 An Encomium for the Airedale
by Tony Dawson, copyright 1992
To be an Airedale's master-friend,
And gaze into his loyal eyes,
To stride beside him through the fray,
Transports the soul to paradise.
A flash of tan, a splash of black,
With Power, Speed, and Grace endued,
No vermin, canine, game,
or man Can stand before his fortitude.
He's whimsical about his lot,
And docile with the romping child.
Although ferocious when attacked,
He is not quickly galled or riled.
When Christ our Saviour calls us home,
And Angelsong around us rings,
We'll find the golden streets patrolled
By Michael and his Terrier Kings.
---
The dog was created especially for children.
He is the god of frolic.
...Henry Ward Beecher
---
My name is Mitakola Shaw, or mih-TAH-koe-lah as it is pronounced phonetically.
The background wallpaper on this page actually are her footprints in the sand.
---
I am an AiredaleTerrier, or Terrorist as dad likes to say. He also calls me The Furblur, (I like the way that one rolls off my tongue), the godess of frolic, propeller butt and occasionally a few names that I cannot repeat as I am a little lady!
Mitakola is a word in the Lakota Indian language of the Sioux. Dad wanted a name for his little indian even a year before I was born, so he stopped at the Native American Educational Services School on the north side of Chicago, and bought a dictionary to find just the right name for me. Ashtabula, one of my predecessors has an Algonquin Indian name but it means "river of many fish"... Good word, but not quite the right idea in what a name should mean.
Aunt Susie, one of dad's friends asked him "what are you going to name your new friend?", and the proverbial lightbulb went on. Man's best friend. Dad looked up "friend" and found out that Mitakola means "my friend".
That's where my name came from, here's my Geneology chart, to see where I came from!
Here is my photo gallery to see what I look like!
Cousin Alex was Uncle Karl's Golden Retriever buddy. They used to come over and we wrestle around a lot, and then we slept good all night. We lost Cousin Alex June 10th, 2000.
Both of us have a common name, Shaw is actually an acronym for "The Boys." Dad and Uncle Karl had four dogs, Shep, Hralph, Ashtabula, and Wrecks. Actually it was Rex, not Wrecks, but he was rather clumsy so the alternate spelling became a sort of nickname. Anyway, I got the name Shaw in memory of the four boys.
---
Right-thinking people know in their hearts that terriers are a superior dog, a breed apart, and the Airedale is the king of terriers: Foe of rats, loyal but not slavish, independant but not haughty, involved without being overeager, strong but never bullying. They meet the world head on with an unrivaled mixture of style, brains and clownish wit, the very ingredients one looks for in a spouse.
...Chip Brown
---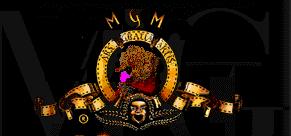 Copyright © 1996, 2001 Martin G. Masters. All rights reserved.
All trademarks mentioned herein belong to their respective owners.
Return to Marty's home page
Mitakola... Want to go out?