Mitakola Unleashed
An Airedale Photo Album
---
Mitakola Shaw Masters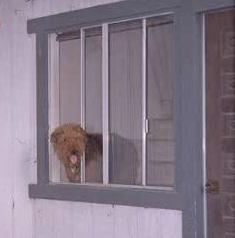 March 25th1990 -- October 5th2000
Thanks for stopping by,
C'mon in!
---
Some people say that a picture is worth a thousand words. With that thought in mind I hope that the following pictures will express how much Mitakola meant to me and all of her other friends.
Her life was abruptly cut off by cancer and has left a deep hole in the hearts of all who laughed with her.
The pages of the photograph album are consecutively linked together, and below are the links to some of my personal favorite snapshots of the Airedale who will always be remembered as
"My Friend".
---
What Are An Airedale's Favorite Things?
The background wallpaper on this page actually are her footprints in the sand.