Christina and Marty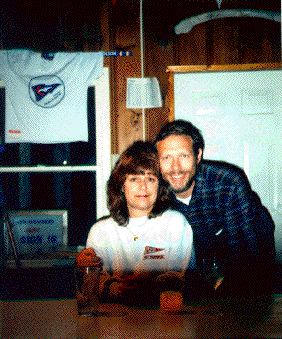 February of 1994 was a cold one in Chicago. A fellow member of the italian-cars emailing list sent out a column he saw by Dave Barry, about how frustrated race car drivers in the midwest can alleviate their tension by spreading a thin layer of oil in the bottom of a microwave, and racing grapes! It comes with a good light show too. I forwarded this to the Team.Net autocross emailing list in an effort to raise a few smiles.
Christina had joined Team.Net in order to find out more information about where to join the Miata mailing list. She saw my email and replied to it not because of the content, although it did peak her interest, but my email was routed through my brother Karl's computer named ditka, and she is a BIG 49'ers Fan. Her first message to me was: "Ditka, huh? I suppose you are a Bears Fan too?" My football interests in my youth were for the Green Bay Packers who were winning everything back then. She thought that this was okay as the Packers are coached by Mike Holmgren who used to be on the 49'ers staff.
Even though I am more of a Bulls Basketball and Black Hawks Hockey fan sports-wise, she decided to meet me when she was passing through Chicago. I took her on the out-the-window tour of Chicago, We stopped at The Billy Goat Tavern for a chee-burgie, no fries, chips. We drove northwest to the Wisconsin border to smell the dairy air. Everything seemed to be exactly what we wanted in a relationship. We share a lot of common interests so, we started our geographically-challenged romance. AT&T, United Airlines, and the United States Postal Service were the big financial winners in this game, but we won each other's hearts.
I moved out ot California to be with her in April of 1995, and now am a network analyst for San Francisco State University
---
Another freshly extracted website by Martin G. Masters.
Copyright © 1996. All rights reserved.
All trademarks mentioned herein belong to their respective owners.

Return to Marty's home page